HER2-negative Breast Cancer Intelligence: Oct'22 Week 1
In support of Breast Cancer Awareness month, Ferma.AI is here with a snapshot of HER2-negative Breast Cancer clinical trials intelligence from last week, September 30-October 6, 2022.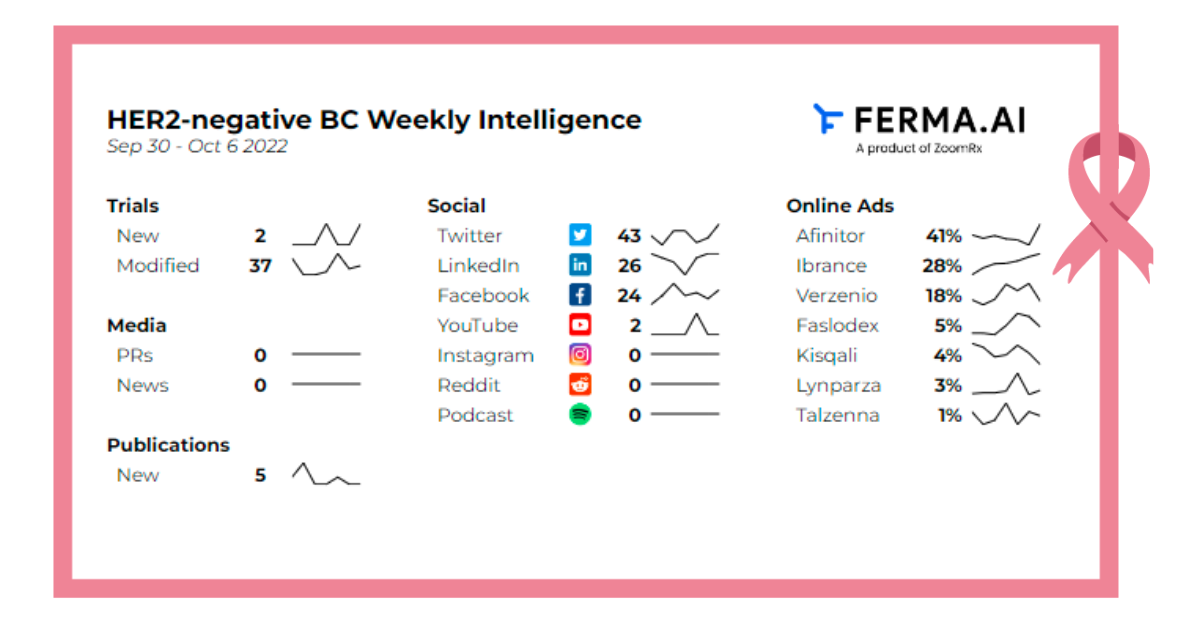 Here is an overview of the key events:
2 new trials introduced
Stemline Therapeutics | Elacestrant; Alpelisib; Everolimus; Ribociclib; Palbociclib | Advanced ER-Positive HER2-Negative Metastatic Breast Cancer | Phase 1/2 | Primary Endpoint: RP2D
SOLTI Breast Cancer Research Group | Collaborator: Daiichi Sankyo | Patritumab Deruxtecan | High-risk Operable HR+/HER2- Breast Cancer | Phase 2 | Primary Endpoint: pCRBL rate at surgery
37 trials modified
5 Publications from Pubmed and ScienceDirect
Social Analysis
8 tweets, 2 LinkedIn posts and 2 Facebook posts collectively highlighted the results from ELAINE- 2 clinical trial (NCT04432454).                            They stated that lasofoxifene, when combined with abemaciclib (Verzenio), a CDK 4/6 inhibitor, demonstrated promising clinical activity and had a favorable risk-to-benefit ratio for the treatment of pre- and post-menopausal patients with ER-positive/HER2-negative metastatic breast cancer who harbor an ESR1 mutation and whose disease had progressed on prior therapies.

2 tweets, 2 LinkedIn posts and 1 Facebook post discussed the results from phase 3 EMERALD trial (NCT03778931).                                                They mentioned that elacestrant is the first oral selective ER degrader demonstrating a significant PFS improvement when compared to standard of care, both in the overall population and in patients with ESR1 mutations, with manageable safety for patients with ER-positive / HER2-negative advanced breast cancer.

2 Facebook posts highlighted that the Philippine Food and Drug Administration (FDA) has approved Ribociclib for the treatment of metastatic breast cancer in males.                                                                        Ribociclib in combination with an aromatase inhibitor or fulvestrant can be used to treat postmenopausal women and men with hormone receptor positive, human epidermal growth factor receptor-2 negative (HR+/HER2-) advanced or metastatic breast cancer after disease progression following an endocrine-based regimen.
Check out our social dashboard here.
Ferma.AI is an AI-driven platform specialized at collecting and synthesizing custom insights from large volumes of data. Learn more about us here.
Would you like to receive similar weekly intelligence snapshots? Please leave your information below.
Thanks for your interest.
We have received your information and member of our team will be in touch with you shortly.