HER2-negative Breast Cancer Intelligence: Oct'22 Week 2
Ferma.AI is back with a snapshot of HER2-negative Breast Cancer clinical trials intelligence from last week, October 7-13, 2022.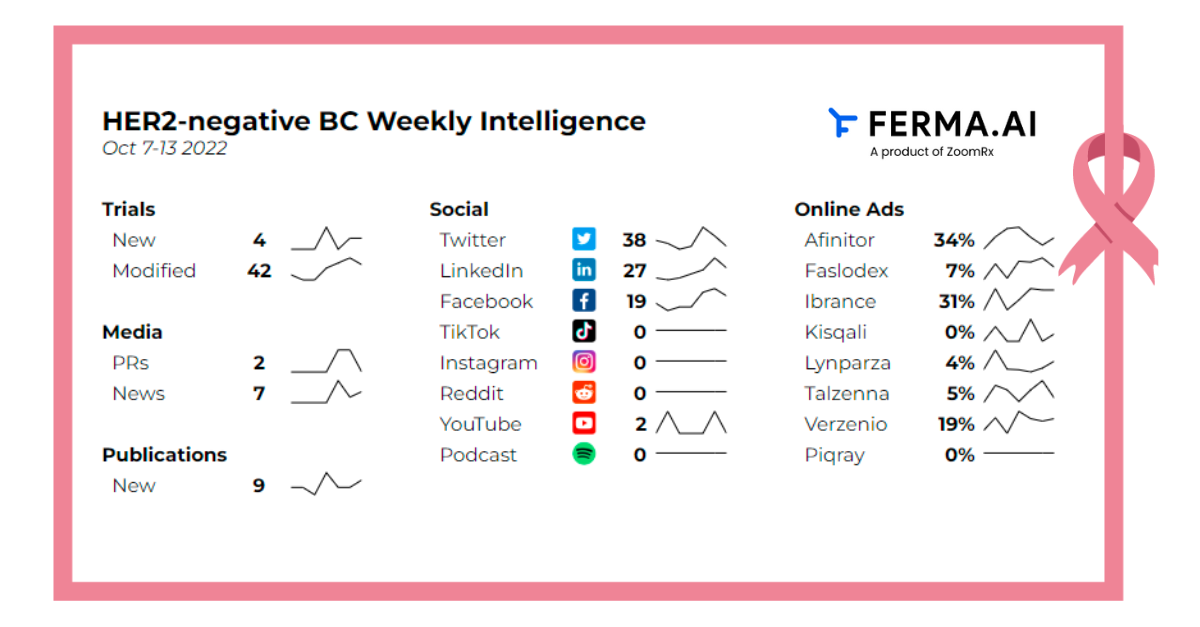 Here is an overview of the key events:
4 new trials introduced
Pfizer | ARV-471; Ribociclib | ER-Positive HER2-Negative Advanced or Metastatic Breast Cancer | Phase 1/2 | Primary Endpoints: DLTs, OR
Ellipses Pharma | EP0062 | Relapsed Locally Advanced or Metastatic AR-Positive HER2-Negative ER-Positive Breast Cancer | Phase 1/2 | Primary Endpoints: DLTs, MTD, AEs
Peking University People's Hospital | Collaborator: Jiangsu Hengrui Pharmaceutical | Fluzoparib; Camrelizumab | gBRCA-Mutated HER2-negative Early Breast Cancer | Phase 2 | Primary Endpoint: tpCR
ProfoundBio | PRO1184 | Locally Advanced and/or Metastatic HR+ HER2-negative Breast Cancer; Locally Advanced and/or Metastatic ST (Ovarian Cancer; Endometrial Cancer; NSCLC; TNBC; Mesothelioma) | Phase 1/2 | DLTs, TEAEs
42 trials modified
2 press releases and 7 news articles
Gilead's sBLA application for Trodelvy was accepted for priority review by the FDA for adult unresectable locally advanced HR-positive HER2-negative mBC based on the results from the phase 3 TROPiCS-02 study. PDUFA target action date is currently set for February 2023. Source: Gilead, 11-Oct-2022
Olema Oncology would present the updated clinical results of phase 1/2 NCT04505826, a study of OP-1250, in subjects with advanced metastatic ER-positive, HER2-negative BC at ENA 2022. Source: Olema Oncology, 12-Oct-2022
9 Publications from Pubmed and ScienceDirect
Social Analysis
10 LinkedIn posts, 3 Facebook posts and 1 tweet collectively highlighted that the FDA has granted priority review to Sacituzumab Govitecan-hziy (Trodelvy) for patients with unresectable locally advanced or metastatic HR–positive, HER2-negative breast cancer who have previously received endocrine-based therapy and at least 2 additional systemic therapies in the metastatic setting. The priority review is based on results from the phase 3 TROPiCS-02 trial (NCT03901339)
1 tweet and 1 Facebook post discussed the second interim analysis results of OlympiA clinical trial (NCT02032823) and mentioned that, with 3.5 years of median follow-up, OlympiA demonstrated statistically significant improvement in overall survival (OS) with adjuvant olaparib compared with placebo for patients with pathogenic or likely pathogenic variants in germline BRCA1 or BRCA2 and high-risk, HER2-negative early breast cancer. The findings were published in the Annals of Oncology journal on 10th October 2022
1 LinkedIn post highlighted the result of clinical trial "Real-World Effectiveness of Palbociclib in Combination With an Aromatase Inhibitor" (NCT05361655) sponsored by Pfizer.                          The post mentioned that palbociclib demonstrated a median overall survival (OS) of 49.1 months which is significantly longer compared to aromatase             inhibitor recipients, who showed OS of 43.2 months. The post also highlighted   that the progression-free survival (PFS) is 19.3 months and 13.9 months with palbociclib and aromatase inhibitor, respectively. These findings were published in NPJ breast cancer journal on 11th October 2022.

Ferma.AI is an AI-driven platform specialized at collecting and synthesizing custom insights from large volumes of data. Please leave your information below if you would like to learn more and receive similar snapshots.
Thanks for your interest.
We have received your information and member of our team will be in touch with you shortly.