ASH 2022 will feature innovative methods for treating Diffuse Large B-cell Lymphoma (DLBCL)
As the healthcare industry continues to comb through ASH abstracts for crucial insights before the 2022 annual conference, we at ZoomRx have used Ferma.AI, ZoomRx's comprehensive medical congress intelligence platform, to assemble crucial information in the healthcare market.
Important information on the Diffuse Large B-cell Lymphoma (DLBCL) market at ASH 2022 is mentioned in the following article. Contact info@ferma.ai for more insights on how Ferma.AI can enhance your medical congress coverage at a 50% lesser cost.
The following list of DLBCL abstracts being presented at American Society of Hematology (ASH) 2022 will be of interest to hematologists:
Subgroup Analysis Improves Understanding of Frontline DLBCL Options (ABSTRACT)
REMoDL-B, Phase 3, Oral | Janssen-Cilag (Velcade, R-CHOP) | Alkylating Agent, Anti-CD20, Glucocorticoid, NFKB Inhibitor, TOP2 Inhibitor, Vinca Alkaloid
Though Velcade has been a mainstay in Multiple Myeloma treatment for nearly 20 years, it has no current indications in DLBCL. A previous readout of the REMoDL-B trial, testing the benefit of the addition of Velcade to standard-of-care R-CHOP combination chemotherapy, indicated no benefit in OS or PFS at a median follow-up of 30 months. Janssen hopes to improve on these results by releasing 5-yr follow-up at ASH 2022.
At 5-yr follow up, Janssen unfortunately still found no overall benefit in OS or PFS. However, two DLBCL patient subgroups were identified that did benefit from Velcade addition. Among activated B-cell (ABC) patients, 5-year PFS improved to 69% for Velcade+R-CHOP vs. 54% with R-CHOP alone. Among the same patient groups, 5-year OS improved from 67% to 80% with the addition of Velcade. A second DLBCL patient subgroup, molecular high grade group (MHG) patients, also experienced a significant improvement in 5-year PFS (29% vs. 55%) and a directional improvement in 5-year OS (48% vs. 60%).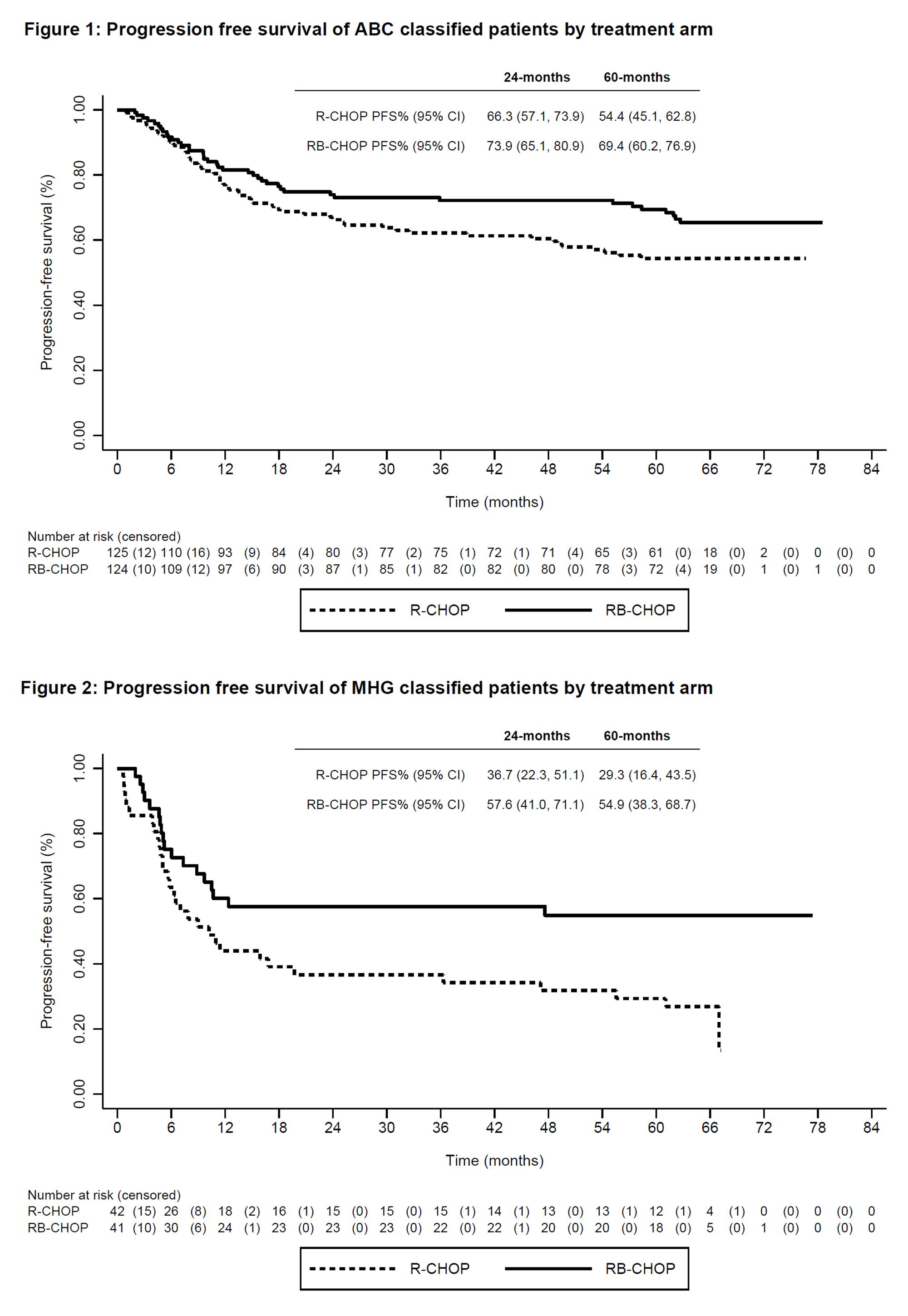 POLARIX Trial for Patients With DLBCL Examines New Treatment Protocol (ABSTRACT)
POLARIX, Phase 3, Poster | Genentech (Pola-R-CHP) | Alkylating Agent, Anti-CD20, CD79b Directed ADC, Glucocorticoid, TOP2 Inhibitor
Earlier this year, Genentech published positive efficacy results for POLARIX trial, wherein Oncovin was replaced by Genentech's Polivy within standard-of-care R-CHOP treatment (Pola-R-CHP). These positive results led to clinical approvals for the Pola-R-CHP combination in both Europe and Japan earlier this year. As Genentech awaits an FDA decision in the USA (PDUFA date April 2023), they are looking to strengthen their case with new patient-reported quality-of-life data (PRQoL).
While both regimens led to rapid and sustained improvements in symptoms and HRQoL, there were no statistically significant differences in mean symptom score between the regimens. Still, slight directional improvements in QoL were observed with Poal-R-CHP over R-CHOP at most time points. In particular, improvements in physical functioning (42.4% vs 39.6%) and fatigue (74.8% vs 68.2%) were noted.

Regeneron Presents New Data from ELM-2 study (ABSTRACT)
ELM-2, Phase 2, Oral | Regeneron (Odronextamab) | CD3/CD20 Bispecific Antibody
Seeking to further strengthen its hematology portfolio, Regeneron will present the first interim data from the pivotal ELM-2 trial seeking to demonstrate a clinical benefit for top pipeline candidate ordronextamab among third-line DLBCL patients. In the ELM-1 Phase 1 trial, odronextamab showed encouraging activity including ORR and CR rates of 53%.
Assessing 121 patients at a median follow-up of 17 months, ORR and CR rates were 53% and 37%, respectively. Response rates were consistent across all high-risk subgroups, and the probability of a continued CR at 9 months was 73%. Cytokine release syndrome (CRS) was a concern in the ELM-1 trial, and an optimized step-up dosing regimen was designed to reduce associated adverse events. Following implementation of the new dosing regimen, no Grade ≥3 CRS events were observed, and all Grade 1/2 CRS events were resolved with supportive measures.
The 64th Annual Meeting and Exposition of the American Society of Hematology (ASH) will take place from December 10 to December 13, 2022, in New Orleans, Louisiana.
The following section contains an additional collection of the most popular abstracts for ASH 202 in the category of Diffuse Large B-cell Lymphoma
AbbVie: Epcoritamab (ABSTRACT)
Safety endpoints include the proportion of patients experiencing grade 3 or higher CRS, immune effector cell–associated neurotoxicity syndrome (ICANS) or neurotoxicity (Ntox).
Secondary efficacy endpoints include ORR and complete response rate (CRR). Secondary safety endpoints include incidence and severity of treatment-emergent adverse events and serious adverse events as well as median time to onset and resolution of grade 3 or higher CRS, ICANS, and Ntox.
AstraZeneca: Acalabrutinib, Magrolimab, Rituximab (ABSTRACT)
Acalabrutinib combined with magrolimab and rituximab was safe and tolerable in pts with advanced R/R DLBCL and no prior exposure to CAR T-cell therapy. The safety profile of the combination was consistent with the known safety profiles of the individual agents.
However, due to the lack of obvious clinical synergy of the triplet over acalabrutinib monotherapy or the combination of magrolimab and rituximab, the study was stopped prematurely.
Small patient numbers limit the conclusions drawn from cfDNA and cytokine analysis but these analysis should be included in future research on targeted combinations because growing data indicates that they frequently correlate with response.
MorphoSys: Lenalidomide, Tafasitamab (ABSTRACT)
Morphosys outlines study design for Phase 3 trial of lalidomide+tafasitamab+R-CHOP in first-line DLBCL.
PFS,event-free survival, OS, safety, and tafasitamab serum concentration will be assessed.
ADC Therapeutics: Loncastuximab Tesirine, Rituximab (ABSTRACT)
This is a phase 2 study of Lonca-R in previously untreated unfit (Cohort A) or frail (Cohort B) patients with DLBCL.
The primary objectives are to assess efficacy (Cohorts A and B) and tolerability (Cohort B) of Lonca-R.
The primary endpoint will be the complete response (CR) rate (Cohorts A and B) and tolerability defined by the percentage of patients completing a total of 4 cycles of therapy (Cohort B).
Probiomed: R-CHOP, Rituximab (ABSTRACT)
With a median follow-up of 8.2 months, estimated 1-year PFS were 81.2% and 88.4%.