ASH22: Showcasing cutting-edge approaches for treating Acute Myeloid Leukemia (AML)
Abstracts for the American Society of Hematology's (ASH) 64th Annual Meeting were released on November 3rd, in anticipation of opening remarks beginning in New Orleans on December 10. As the healthcare world begins to pore over the abstracts for key insights, we used Ferma.AI, ZoomRx's comprehensive scientific congress intelligence platform, to consolidate key insights for a few of the most active markets.
Read on for key highlights within the competitive Acute Myeloid Leukemia (AML) market at ASH 2022. For more information on how Ferma.AI can enhance your congress competitive intelligence at 50% less cost, please book a 30-minute meet here.
AbbVie looks to strengthen Venclexta's position in Newly Diagnosed AML (ABSTRACT)
VIALE-A, Phase 3, Oral | AbbVie (Azacitidine, Venclexta) | BCL-2 Inhibitor, DNA/RNA Methyltransferase Inhibitor
Though Venclexta is a leader in the newly diagnosed AML space, AbbVie hopes to further cement its position in advance of a raft of potential new AML entrants. At the time of Full FDA approval in late 2020, AbbVie had reported median OS of 14.7 months for Venclexta+azacitidine (Ven+Aza) vs. 9.6 months for placebo+azacitidine (Pbo+Aza) within the VIALE-A trial, at a median follow-up of 20.5 months.
Now two years later, with a median follow-up of 43.2 months, AbbVie will report a sustained and identical overall survival survival advantage of 14.7 months for Ven+Aza vs. 9.6 months for Pbo+Aza, with no new safety findings. Notably, the median OS for patients with MRD <10-3 who had achieved CR+CRi was 34.2 months and median OS for patients with IDH1/2 mutations treated with Ven+aza was 19.9 months.
Oryzon Genomics Furthers iadademstat's Case as a Viable 1L Alternative (ABSTRACT)
Alice, Phase 2, Oral | Oryzon Genomics (Azacitidine, Iadademstat) | Lysine Specific Demethylase 1 Inhibitor, Nucleoside Metabolic Inhibitor
One hopeful new player in the AML market is Oryzon, who hope to position iadademstat combinations as an alternative in 1L patients unfit for chemotherapy and/or predicted to be resistant to Ven+Aza. Iadademstat's unique mechanism of action targets the translational regulatory enzyme LSD1/KDMA1 and has previously shown manageable toxicity and encouraging preliminary activity in over 100 Ph1/Ph2 oncology patients.
Oryzon's abstract details Phase II data at a median follow-up of 6.9 months suggesting an 81% response rate and 9.3 months median OS, alongside 14.3 months median OS among the 64% of patients achieving CR/CRi. Final data with another 3 months of follow-up will be presented at ASH.
BMS Expands Onureg's Longitudinal Data Post-Relapse (ABSTRACT)
QUAZAR AML-001, Phase 3, Poster | BMS (Onureg) | Nucleoside Metabolic Inhibitor
Not satisfied with a previously reported OS benefit of nearly 10 months for Onureg vs. placebo in first-remission transplant-ineligible patients, BMS hopes to demonstrate continued benefit of Onureg maintenance treatment, even after relapse and subsequent treatment with a new second-line AML treatment regimen.
In mixed results, Onureg maintains a 5.4 month OS benefit vs. placebo when measured from the time of randomization within the QUAZAR AML-001 trial (median follow-up 51.7 months), though the benefit disappears when measured from the start of subsequent second-line treatment. BMS argues that this result demonstrates that Onureg maintenance treatment can extend the duration of remission without influencing the clinical benefit of subsequent AML Tx.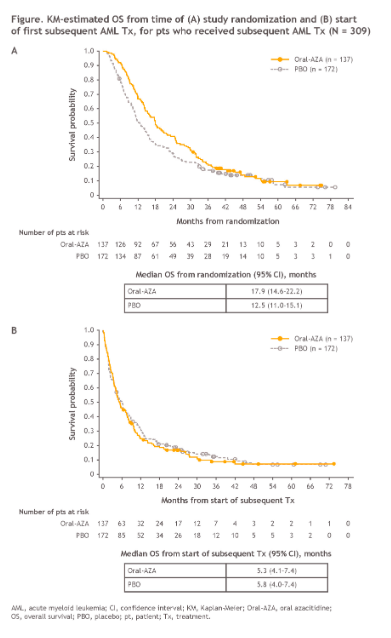 An additional selection  of the most popular abstracts of Acute Myeloid Leukemia for ASH 2022 are available below:
Servier: Azacitidine, Ivosidenib (ABSTRACT)
Suppression of all baseline non-DTA (DNMT3A / TET2 / ASXL1) mutations to below the LOD ("mutation clearance") was observed in 28 patients, including 22/34 (65%) pts who achieved CR/CRh.
Genentech: Cytarabine, Fludarabine, Gemtuzumab Ozogamycin (ABSTRACT)
The primary objective is to compare the OS of venetoclax in combination with cytarabine (FLA)+gemtuzumab ozogamicin (GO) compared with FLA+GO alone (Recruitment is ongoing).
This is a trial for children, adolescents and young adults with 2nd relapsed AML or 1st relapsed AML unable to receive additional anthracycline.
Cellectis: UCART123v1.2 (ABSTRACT)
Responses were assessed on day 28. Evidence of UCART123v1.2 activity was observed in 4/16 pts with best overall responses.
Daiichi Sankyo: Allogeneic Hematopoietic Cell, Quizartinib(Quiz) (ABSTRACT)
The analysis revealed Quiz treatment (hazard ratio [HR] 0.770; 95% confidence interval (CI) 0.609-0.973; P = 0.0284) and allo-HCT in CR1 (HR, 0.424; 95% CI, 0.301-0.597; P < 0.0001) as favorable factors with respect to OS. Based on this model at any given time, the HR was 0.326for the patients randomized to Quiz and proceeding to allo-HCT in CR1 compared with patients randomized to PBO who had not yet received allo-HCT in CR1 by that time.
Novartis: Eltrombopag (ABSTRACT)
Adding eltrombopag to induction is feasible and safe. It is significantly reducing the need for platelet transfusions.
Event free survival at 12 months was 52.7% after eltrombopag versus 50.5%.
Jazz Pharmaceuticals: CPX-351, Midostaurin (ABSTRACT)
CPX-351 +midostaurin (MID) is feasible with a manageable safety profile and promising remission rates.
Complete remission (CR) was achieved by 14/17 (82%) patients with a FLT3 ITD mutation and by 5/6 (83%) patients with a FLT3 TKD mutation
Syros Pharmaceuticals: Azacitidine, Tamibarotene, Venetoclax (ABSTRACT)
The Monocytic Expression Score (MES) was high in 3 of 4 (75%) response evaluable patients consistent with a prior report in RARA positive AML. All 4 response evaluable patients achieved a best response of CR/CRi. The onset of response was rapid with all patients achieving an initial response after Cycle 1. Median duration of treatment was 68 days. Two patients discontinued both in remission, one due to death from neutropenic sepsis and the other by physician decision.
American Society of Hematology's (ASH) 64th Annual Meeting and Exposition will take place at New Orleans, Louisiana, from December 10 to December 13, 2022.