AAN 2023: Key Takeaways and Highlights!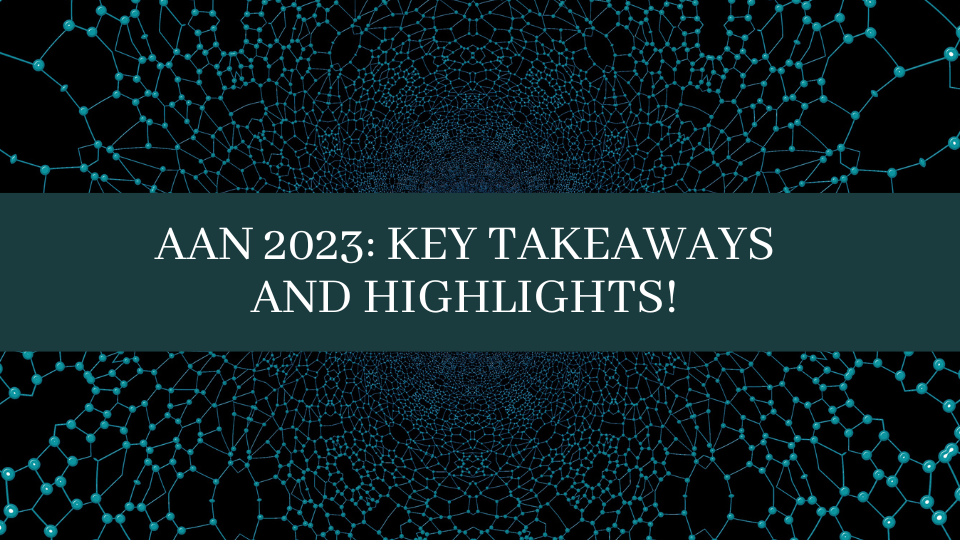 The American Academy of Neurology (AAN) recently held its 75th annual meeting, a platform that aims to advance high-quality, patient-centered neurologic care and elevate the career satisfaction of its members. The conference, which was held from April 22-27, 2023, took place both in-person in Boston and virtually. The meeting provided an opportunity for neurology professionals to come together and share the latest advancements, research, and insights in the field of neurology.

Ferma.AI has analyzed all 4,250 abstracts submitted for the AAN 2023 conference, along with social media activity and news reports, to determine the most relevant and high-impact sessions for neurologists. The top sessions that garnered the most attention covered a diverse range of content including cutting-edge research, new treatments and therapies, and insights into the latest clinical practices. Ferma.AI assigned a normalized "buzz score" to each session, identifying the most talked-about sessions among attendees.

Interested in learning more about how Ferma.AI can enhance your conference coverage and insights while also reducing costs by 40%? Schedule a brief call with us to see a live demonstration.
Top Buzzed Sessions

Key Themes in AAN 2023
We have segregated the most buzzed sessions into two distinct groups:
Clinical Trials Plenary Session Updates
Highlights From Contemporary Clinical Issues Plenary Sessions

Clinical Trials Plenary Session Updates

VISIONARY-MS Top-line Results: A Phase 2, Randomized, Double-Blind, Parallel Group, Placebo-controlled Study to Assess the Safety and Efficacy of CNM-Au8, a Catalytically Active Gold Nanocrystal Suspension in Relapsing Multiple Sclerosis
Buzz Score: 86% | Abstract
The VISIONARY-MS trial evaluated CNM-Au8 treatment in stable relapsing MS patients on background therapy. The primary outcome of the BC-LCLA score was 3.13. 2 of 3 key secondary outcomes were significant:
LS-mean difference of mean standardized mMSFC score: 0.28.
LS-mean difference of mMSFC average ranked sum score: 13.4.
Treatment-emergent adverse events were mild-to-moderate. These results suggest CNM-Au8 may improve neurological function in stable RMS patients on DMTs. The trial was prematurely ended due to the pandemic after enrolling 73 of the planned 150 patients.

Efficacy and Safety of Zavegepant Nasal Spray for the Acute Treatment of Migraine: Results of a Phase 3 Double-Blind, Randomized, Placebo Controlled Trial
Buzz Score: 85% | Abstract
In a Phase 3 trial, zavegepant nasal spray showed superiority to placebo for the coprimary endpoints of pain freedom (23.6% vs 14.9%) and freedom from the most bothersome symptom at 2 hours post dose (39.6% vs 31.1%). Secondary endpoints included pain relief at 15 minutes (15.9% vs 8.0%) and sustained pain relief from 2-48 hours (36.1% vs 29.6%). Adverse events were generally mild or moderate, with the most common being dysgeusia. Overall, zavegepant nasal spray was effective, fast-acting and well-tolerated in the acute treatment of migraine.

Results from the First Four Regimens of the HEALEY ALS Platform Trial
Buzz Score: 82% | Abstract
The HEALEY ALS Platform Trial is a perpetual adaptive phase 2/3 multi-regimen trial for ALS, with a primary endpoint of change from the baseline through week 24 in disease severity over time as measured by ALSFRS-R. The first four regimens (zilucoplan, verdiperstat, CNM-Au8, pridopidine) were completed, with a total of 653 people with ALS randomized between July 2020 and Dec 2021. A fifth regimen is enrolling new participants (regimen E: trehalose), and more regimens are being added. By testing multiple investigational products concurrently and sequentially, the trial is accelerating drug development for ALS.
Highlights From Contemporary Clinical Issues Plenary Sessions

Deep Machine Learning Algorithms in Glioblastoma (GBM) MRI Evaluation
Buzz Score: 85% | Abstract
The study evaluates the performance of automatic brain tumor segmentation models trained on preoperative MRI datasets on post-operative MRI scans of patients with glioblastoma. Ten deep-learning models were tested on 100 MRI scans, and overall, models showed better performance on pre-operative scans. The Knowledge Distillation algorithm exhibited the best performance for whole tumor segmentation on postoperative scans with a Dice Similarity Coefficient score of 0.836. Further improvements are needed to enhance this AI technology's accuracy.

Presenter: Seizure Forecasting and Detection with Wearable Devices and Subcutaneous EEG - Outcomes from the My Seizure Gauge Trial
Buzz Score: 84 % | Abstract
The study aimed to develop a non-invasive method for forecasting seizures in patients with epilepsy. Wearable devices and concurrent ambulatory EEG monitoring were used to record data from 39 patients over 16000 days. Seizure forecasting was significantly better than chance in 6 patients using the Empatica E4 device and in 5 of 6 patients using subscalp EEG. Heart rate circadian and multi-day cycles were phase-locked with self-reported seizure likelihood in 10 of 19 patients, and electrodermal activity, heart rate, and actigraphy cycles were significantly correlated with iEEG-confirmed seizures in 11 patients.

10 kHz SCS Provides Durable Pain Relief and Neurological Improvements for Patients with Painful Diabetic Neuropathy: 24-Month RCT Results
Buzz Score: 83% | Abstract
This study aimed to assess the safety and effectiveness of 10 kHz spinal cord stimulation (SCS) in treating painful diabetic neuropathy (PDN). Patients (n=216) were randomized to receive either 10 kHz SCS plus conventional medical management (CMM) or CMM alone. At 6 months, patients who received 10 kHz SCS experienced an average reduction of 76% in pain intensity and 62% had neurological improvements, while CMM alone showed a 2% increase in pain and only 3% had neurological improvements. 10 kHz SCS provided durable pain relief and improvements in neurological function without device explants due to lack of efficacy.

CE-VST01-JC: a Novel Allogeneic T-cell Based Immunotherapy for the Treatment of Progressive Multifocal Leukoencephalopathy (PML)
Buzz Score: 82%| Abstract
CE-VST01-JC is a novel allogeneic T cell-based immunotherapy developed for treating progressive multifocal leukoencephalopathy (PML), a demyelinating disease of the CNS caused by JC polyomavirus (JCPyV). The therapy consists of JCPyV-specific T cells expanded using a targeted mixture of 36 JCPyV-specific peptides covering 35 class I and class II HLA alleles. In vitro characterization showed that the therapy is highly potent, specific, and has no detectable off-target reactivity. A global study, ASCEND-JC, will evaluate the clinical safety and efficacy of the therapy for PML treatment.
Wrap-up
Ferma.AI tracks abstract and data releases for all major healthcare conferences, alongside social media and healthcare news reactions. Interested in learning more about how Ferma.AI can enhance your conference coverage and insights while also reducing costs by 40%?
Schedule a brief call with us to see a live demonstration.