AACR in 6,000 Tweets: Measuring Digital Reaction to this Year's Virtual Meeting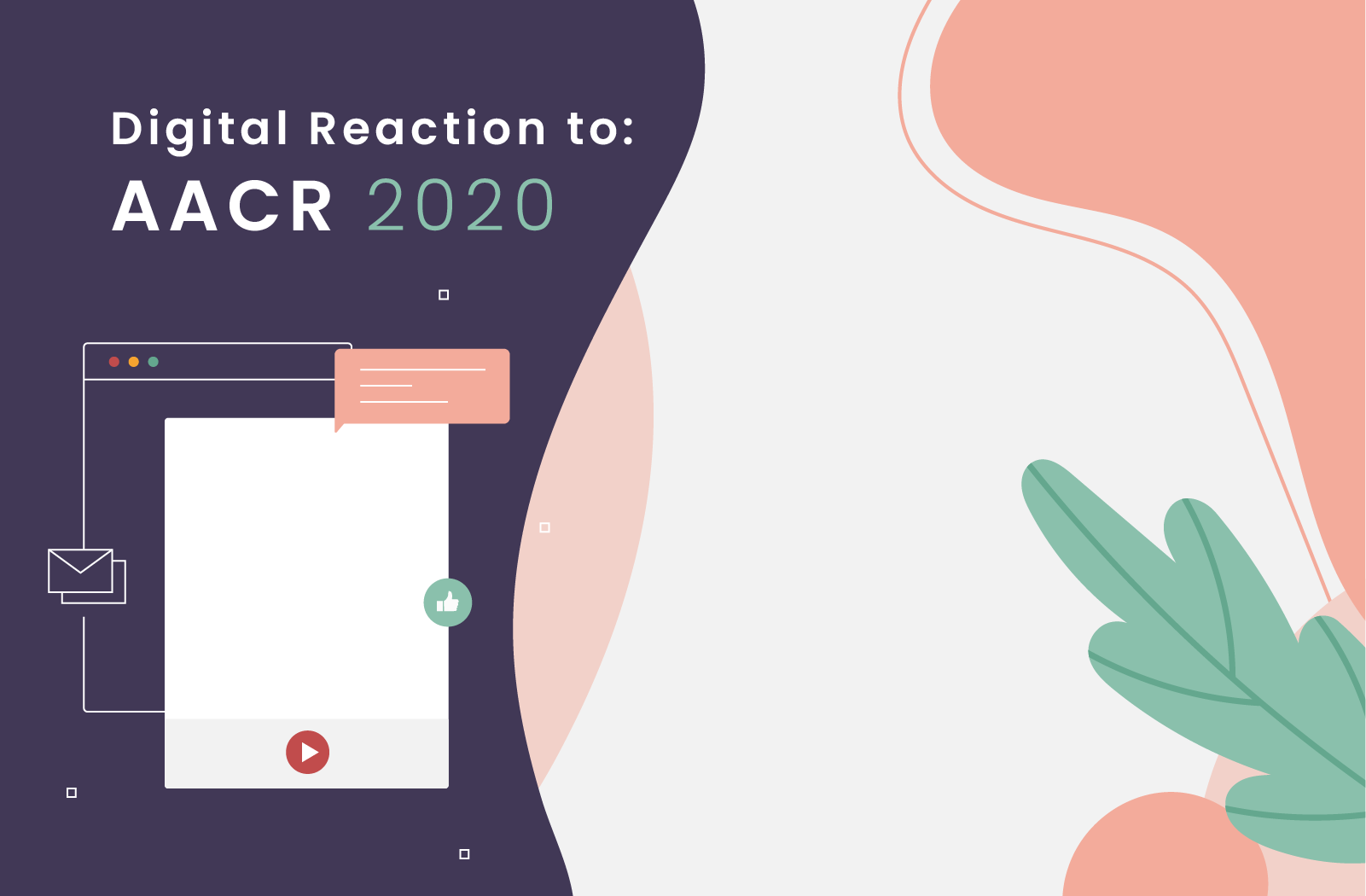 This year's American Association for Cancer Research meeting was held virtually in order to continue the dissemination of key clinical and scientific information, despite the ongoing pandemic.
From an attendance perspective the meeting was a massive success, drawing a reported 61,000 registrants (up from a typical attendance of ~23,000). Questions remain, though, regarding how the virtual format was received by attendees and what topics attracted the most attention.
How Ferma captured virtual reaction to events at AACR
One of the major benefits of in-person meetings is being able to gauge the immediate reaction to information as it is presented, to feel the collective buzz that occurs when breakthrough data is revealed. We believe that these reactions and the buzz can and should be captured even in the digital world.
We used Ferma to detect topics, extract keywords, and analyze sentiments by analyzing data from over 6,000 tweets. Ferma identified key themes discussed and sentiments being expressed.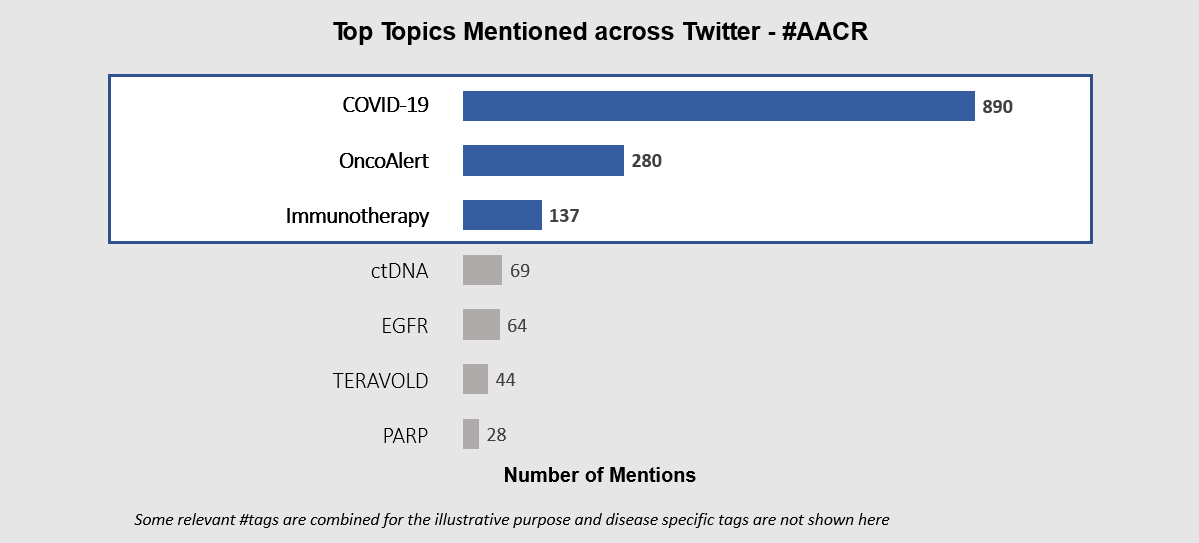 Reaction to the virtual forum and to key topics presented
Overwhelmingly, the virtual conference was received positively by attendees with nearly 80% of related tweets containing positive sentiments. The shorter presentations and abstracts—compared to traditional in-person conferences—were well received and attendees cited the flexibility of the virtual format as a major benefit.
Unsurprisingly, the impact of COVID-19 on cancer patients was widely discussed. Conversation on this topic included discussion of various COVID-19 treatment options, the risk of immunosuppression with ongoing/planned cancer management, and the COVID-19 mortality rate—which appears to be significantly higher among cancer patients.
Aside from COVID-19-related concerns, new data in immunotherapy attracted significant interest.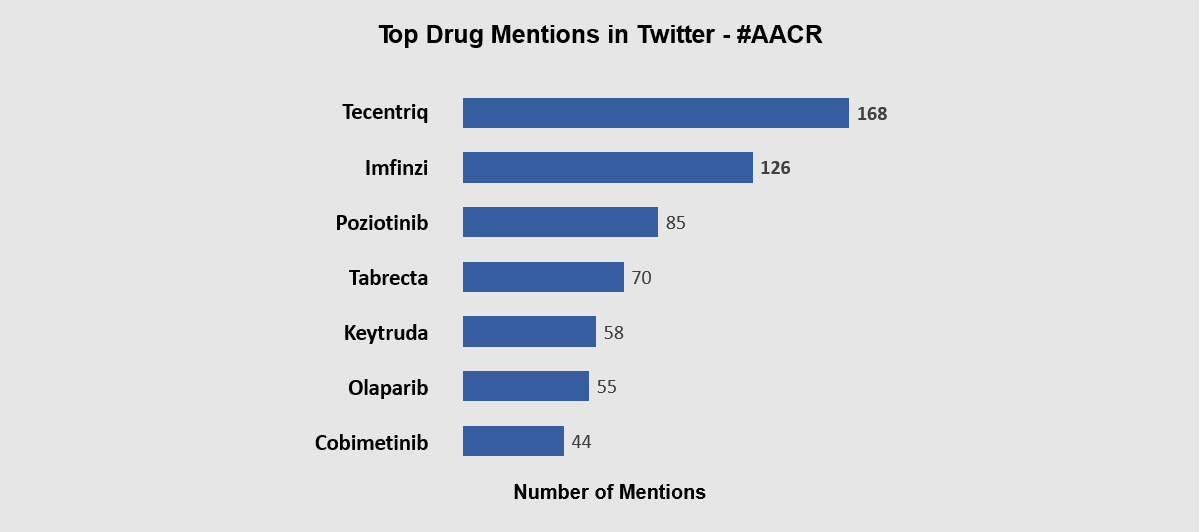 Impact of COVID-19 on cancer patients
Lung cancer garnered the highest number of mentions across tweets when compared to other cancer types. This is likely due to the increased COVID-19 mortality rate among lung cancer patients.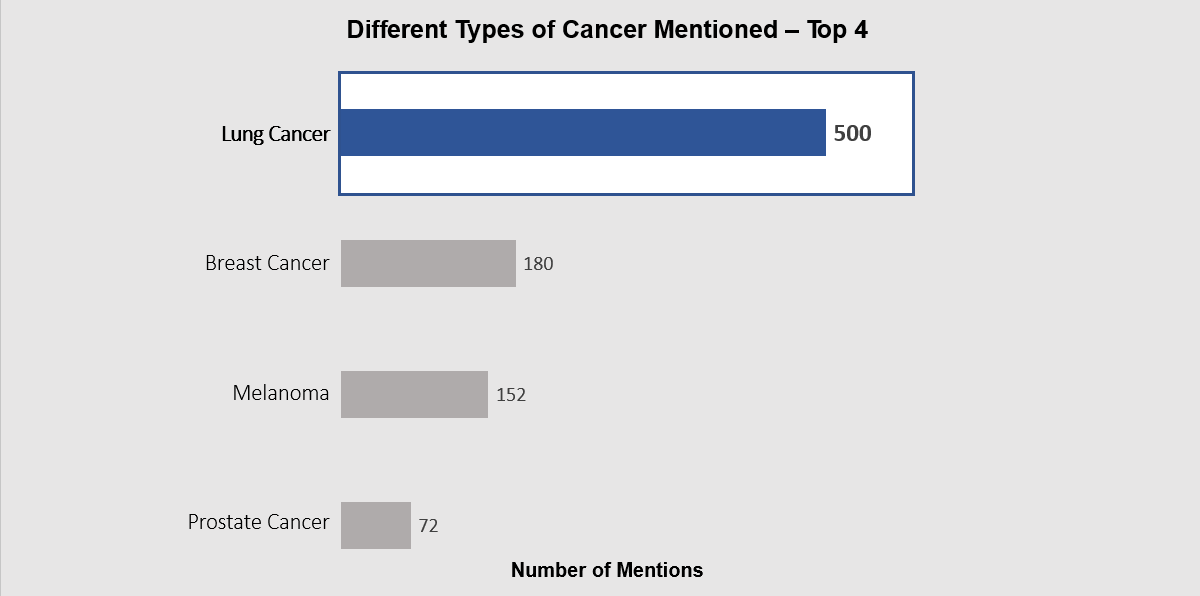 Reaction to key immunotherapy data

Developments in immunotherapy continue to be a major area of progress. Roche's Tecentriq, Merck's Keytruda, and Pfizer's Imfinzi all garnered a great deal of attention and the general sentiment of the discussion was largely positive. One major disappointment came as a result of the combination of Tecentriq and Xtandi failing to extend survival across patient subgroups.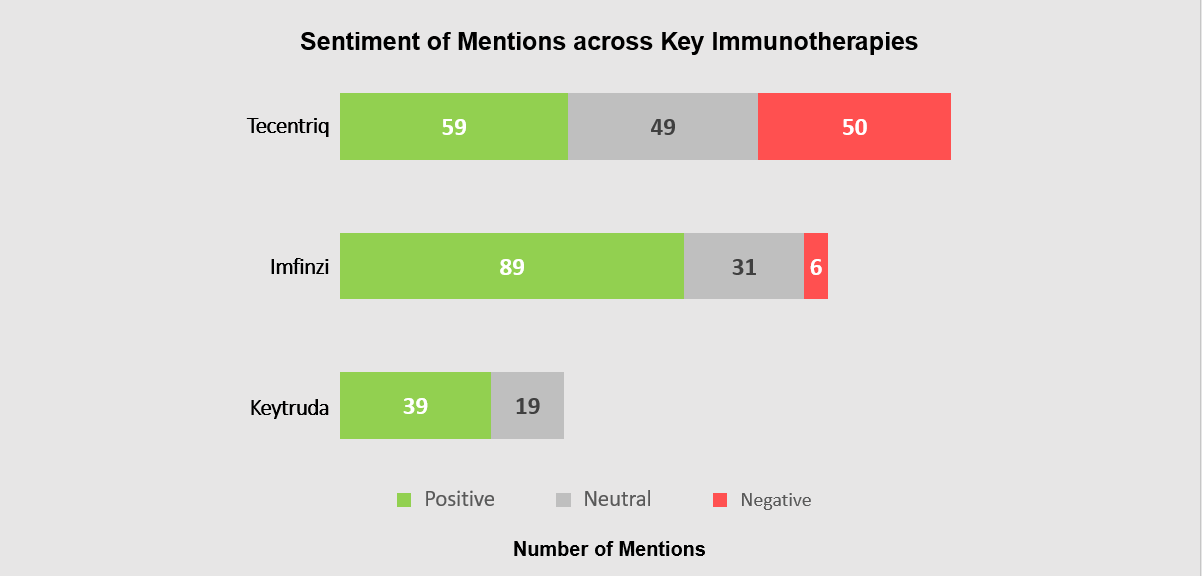 Tecentriq was the most discussed immunotherapy (46%). Mentions were mixed with most (72%) mentions related to its combo therapy for melanoma reflected a positive sentiment its use with Xtandi in prostate cancer elicited a largely (74%) negative response.
While Tecentriq garnered the most attention, the I-SPY-2 trial (Imfinzi with Lynparza improved pCR for HER2 negative breast cancer) was the most positively perceived clinical trial presented at AACR (~70% positive sentiment).
Keytruda's modified dosage, mBC trials, and colorectal and prostate cancer trials, although attracting less attention, were mostly received positively (67%).
AACR set the bar high for digital conferences in oncology. We're looking forward to this year's virtual ASCO meeting and will be following the reaction closely.

Interested in tracking KOL and general reaction to the virtual ASCO sessions most relevant to your CI/medical affairs team?
Request a demo.
Leave your info below and we'll follow-up with you shortly.
Thanks!
Your message has been successfully submitted.